FIU Chaplin School, DEI Alliance Update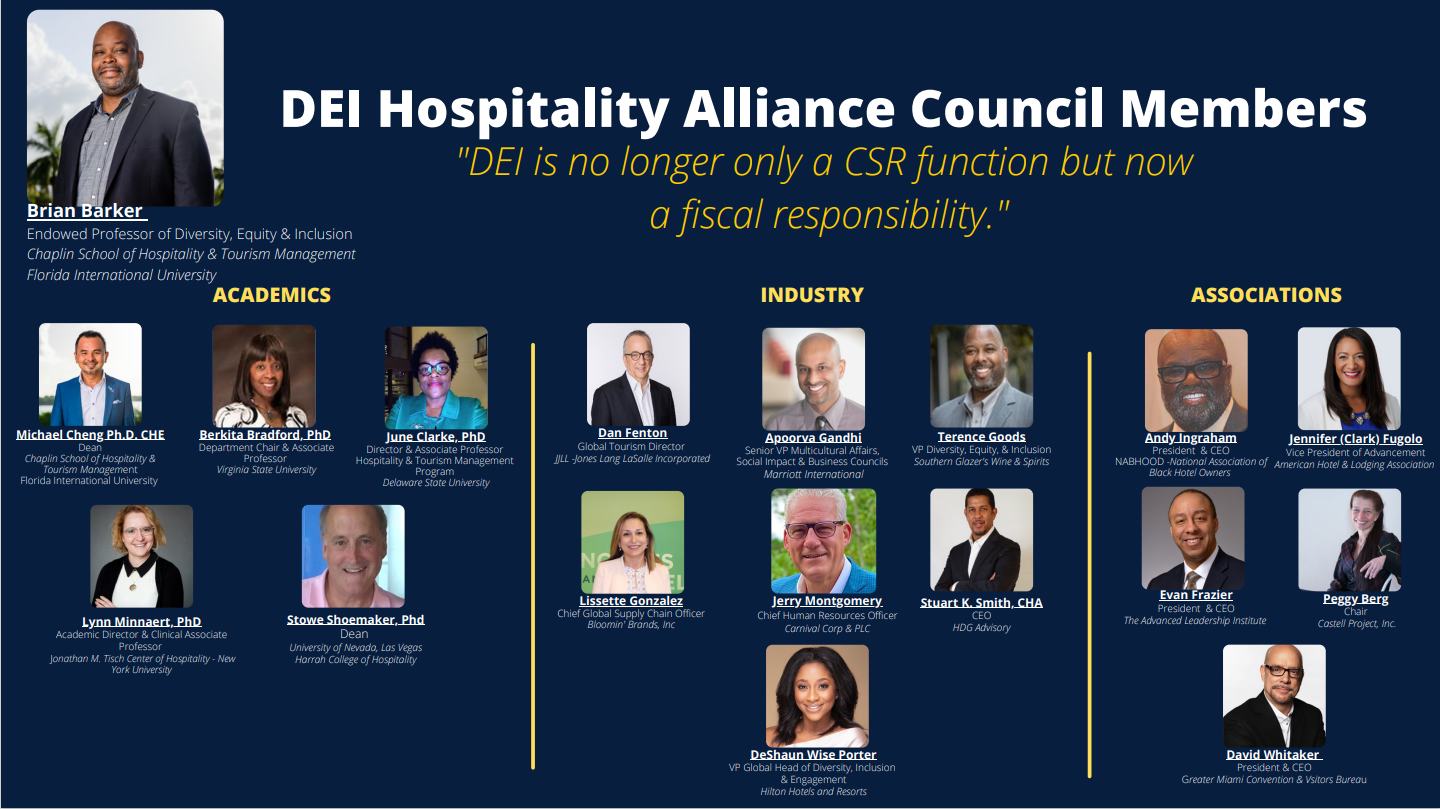 The DEI (Diversity, Equity, and Inclusion) Alliance Partnership Brief 
What is the DEI Alliance?
A bold, intentional initiative is underway among higher education institutions to build a strategically aligned alliance to address the needs of and create a pathway for talented lower socio-economic Black high school and community college students to pursue a hospitality management degree. The program is tentatively named the DEI Alliance.
The multi-institutional alliance of universities with hospitality programs will be formed to initially support:
Intentional recruitment of lower socio-economic Black students
Ongoing research that will provide data-driven solutions to enhance the pathways for Black students to enter college and achieve successful careers
Collaboration on strategies and implementation of concrete solutions
Development of mentorship programs to prepare the next generation of Black executive leaders within the hospitality industry
Targeted approach to raising targeted funds to support these intentional initiatives for programs, scholarships, research, and faculty support
How Do We Accomplish This?
The Chaplin School of Hospitality & Tourism Management at Florida International University has taken the bold step of creating an independent platform that is intentionally focused on recruitment and making a measurable difference in increasing the presence of Black students and ultimately future senior leaders in the hospitality industry. FIU has taken the first step by raising funds and naming the only endowed professor of DEI of any major college or university hospitality program. As professor of DEI for the Chaplin School, Mr. Brian Barker will serve as the executive director of the Alliance platform and will administer the formation and development of the organization's guiding principles and bylaws. Mr. Barker will form and lead an advisory council to guide both the creation of the Alliance and its ongoing efforts.
The Alliance Council will be comprised of a diverse team of faculty from leading hospitality universities, industry professionals, the corporate community, and key foundation leaders. The council members will develop a formal name for the Alliance and will recommend and administer the funding priorities.
As currently envisioned in the Alliance business plan, a staff of four professionals will be hired to administer and conduct fundraising, marketing, research, membership, training, and student recruitment initiatives of the Alliance.
Commitment
To engage with the Alliance, participating universities must comply with the Alliance bylaws and leverage the best demonstrated intentional practices for recruitment and support of lower socio-economic Black students. A key requirement of universities joining the Alliance will be the commitment to create a clear channel to receive, vet, admit, and support the qualified targeted candidates who meet the admissions standards for the participating university. Universities joining the Alliance will be required to report the acceptance and denial statistics of the Alliance student candidates.
Annual membership fees will be required to participate, but fees will be established equitably and with respect to program size and capability, not to exceed $10,000.
Partnership Benefits
High School and Community College Recruitment
Collaboration with Alliance recruiters in participating programs and feeder schools
Support strategies to identify, attract, and retain
Eliminating barriers for students through alignment with the Alliance
Targeted intentional approach to engage families through high schools, community colleges, and community and nationally based organizations
Collaboration
Collaboration platform and exchange—an opportunity to leverage the Alliance for internal planning

Platform that fosters collaborations between industry and academic institutions

Conference and networking opportunities

Broad based support for faculty & administration through membership
Research
Access and participation in DEI research

Sharing of best practices among academic partners
Scholarships & Grants
Industry-named faculty fellowship opportunities

Faculty grant opportunities

Targeted student scholarship funds

High school partnership scholarships

Direct fundraising as a member who supports the Alliance platform
Mentorships
High school mentorships

Student mentorships

Faculty mentorships
Communications
Creating awareness & messaging—visibility and recognition as advocates and leaders in DEI

Digital platform—resources to support
The Alliance will attract and engage donors looking for intentional activities and measurable results as well as broad-based hospitality programs that support DEI in education and throughout the hospitality industry.
The Alliance's Commitment
The pursuit of excellence in hospitality through community partisanship for the equitable access to education, financial, and intellectual resources for black students; and to embody the ethos of sustainable leadership and culture for the service industry.
For more information, contact:
Brian Barker, Endowed Professor of Diversity, Equity & Inclusion, [email protected]
Shivani Joshi, Executive Director of Development, [email protected]
or
Kasey Cortes-Lohn, Development Officer, [email protected]
Florida International University
Biscayne Bay Campus
3000 N.E. 151st Street
North Miami, FL 33199
305-919-4500
Share this post: