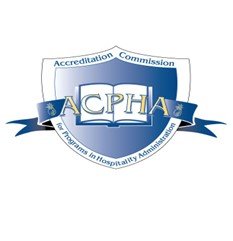 FOR IMMEDIATE RELEASE
[Oxford, MD) The Accreditation Commission for Programs in Hospitality Administration has been formally recognized by the Council on Higher Education Accreditation (CHEA). 
At its meeting on January 24, 2022, the Council for Higher Education Accreditation (CHEA) Board of Directors reviewed the recommendation of the CHEA Committee on Recognition regarding the application submitted by the Accreditation Commission for Programs in Hospitality Administration (ACPHA) and accepted the committee recommendation to formally recognize ACPHA as an accreditor of hospitality  administration /management programs in regionally and nationally accredited institutions of higher education. This grant covers both associates and bachelor's degree programs in the United States and Internationally.
Accreditation is a highly successful and well-tested system of quality assurance and quality improvement.
"Accreditation" is the primary means of assuring and improving the quality of higher education institutions and programs in the United States. Active for the past 100 years, this private, voluntary system of self-examination and peer review has been central to the creation of a U.S. higher education enterprise that is outstanding in many respects. It serves as a major source of protection against fraud and abuse for students and consumers and shows that ACPHA is responsive to the current climate of accountability.
The recognition means ACPHA's processes and procedures have meet the requirements to be included among the accrediting agencies of specialized/programmatic agencies. Since ACPHA has met the rigorous expectations established by CHEA for Accrediting Agencies all of the ACPHA accredited programs are also part of this quality control and thus elevated by the value of their program's ACPHA Accreditation Status. Over seventy programs, both domestic and international, are currently accredited by ACPHA.
CONTACTS: Dorothy C. Fenwick, Ph.D. and Dorothy Samonisky
PHONE: +1 410-330-3641
EMAIL: [email protected]
WEBSITE: www.acpha-cahm.org
Share this post: